Greek police are attempting to clear Europe's largest informal refugee camp, where thousands of refugees have been stranded for months just south of the Greek-Macedonian border.
Journalists and activists were barred from entry, but witnesses said about 400 riot police entered the camp at dawn on Tuesday to order the approximately 8,000 camp residents to leave. Many left voluntarily in government buses, and by 8am no violence had been reported.
Idomeni was the informal crossing point through which hundreds of thousands of refugees entered Macedonia in 2015. Refugees started camping there when the Macedonian government began shutting the border to certain nationalities last November. Once the border shut entirely in March, the site became a full-scale camp, and an emblem of Europe's failure to manage the refugee crisis.
The Greek authorities have tried for weeks to transfer people from Idomeni to formal camps on former military bases. But many refugees have been reluctant to leave because some still hope that the border will reopen; others intend to cross with the help of smugglers; and still more are frightened of being locked inside hurriedly finished government-run centres.
Under an EU agreement made last summer, the refugees are technically meant to be relocated to other countries in Europe – but so far the EU's members have failed to live up to their promise.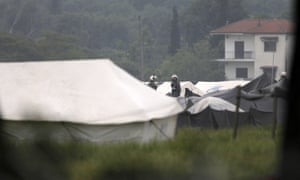 With the government promising not to use force to clear Idomeni, volunteers in the area doubted that it would be completely emptied on Tuesday.
"It may look like they're going for an evacuation, but I don't know how they're going to do it," said Vasilis Tsartsanis, a Greek activist who has been working in the area since refugees starting passing through in higher numbers in late 2014. "They may be trying to use fear to make refugees leave. But I don't know who's going to put his head [on the line] and order an evacuation [by force]."
Médecins Sans Frontières, which has had a presence at Idomeni for over a year, said that by 8am there had been no violence.
"So far it's peaceful, and people are just moving," said Loic Jaeger, the charity's head of mission in Greece.
Jaeger also argued that the evacuation constituted a failure of European solidarity. "Everyone is very excited about the evacuation – about whether it's violent or not violent – but that's not the point," he told the Guardian. "The point is that they should be in an apartment somewhere in Europe: there are only 8,000 of them. Why are we putting them in buses to put them in half-finished camps in Greece, when Europe has promised to relocate them?"
Elsewhere in Greece, 50,000 refugees have been stuck in limbo since March, when the countries of the Balkans closed a humanitarian corridor that had brought hundreds of thousands of asylum seekers to countries including Germany and Sweden in 2015.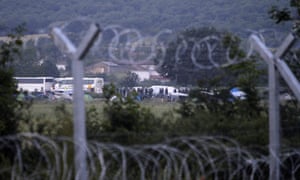 Thousands are stuck in wretched conditions in detention centres on the Greek islands, where dozens are on hunger strike to protest at their treatment. "This is my seventh day on hunger strike," said Wassim Omar, a Syrian teacher detained on the island of Chios. "We don't want to spend our lives here."
Some are still attempting to reach Germany with the help of smugglers. "We hear that tomorrow we will all go to camps," Abdo Raja, a 22-year-old Syrian at Idomeni, told the Associated Press on the eve of Idomeni's clearance. "I don't mind, but my aim is not reach the camps but to go Germany."
The dire humanitarian situation in Greece, coupled with the closure of the border and the threat of deportation back to Turkey, has resulted in the number of refugees arriving in Greece dwindling in recent weeks. But a Greek appeals committee recently decreed that Turkey is not a suitable country for refugees – meaning that refugees could once again have an incentive to sail to Greece from Turkey.