Migrants and refugees rarely get a good press. Headlines tend to accentuate the costs not the benefit of good hospitality. Politicians from the UK to US, Germany to Italy, rarely have a good word to say about them.
But refugees are not all helpless dependents, hopelessly reliant on charity. They make economic contributions, grow GDP, start businesses and social enterprises, create jobs. For every one implicated in a crime, thousands more are raising children, volunteering, filling the skills shortage in Europe.
It is perhaps in Italy where this gap between perception and reality has had the greatest political impact. Here we focus on five who defy the lazy political stereotyping of the Italian far right.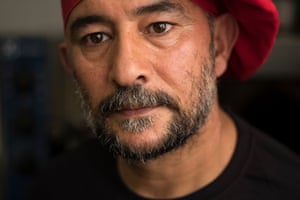 If 20 years ago you had suggested to Cpl Mohamed Shapoor, who was then living among mortar attacks launched by the Taliban, that one day he would become a chef in Italy, he would have laughed in your face. But life is unpredictable, which is the most important lesson Shapoor has learned during his incredible existence.
Now 47, Shapoor abandoned his military uniform and decorations in 2000, fleeing from an Afghanistan agonised by a war that continues to claim civilian victims. Today he is one of the most esteemed chefs in Palermo, Sicily, where he has been living for 10 years.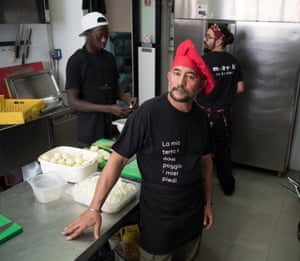 "I thought I would wear that uniform forever," he tells the Guardian with the stern glance of a soldier. "In time, I learned that that conflict was never going to end, and I decided to leave. Life has taught me that we are not victims of history, just that not everyone is lucky enough to realise it.
"I am convinced that today, thanks to having fled my country, Mohamed Shapoor realises that he was not destined to be a corporal, but a chef in the land of pasta and pizza."
A flyer attached to the door of the restaurant Moltivolti in Ballarò, an ancient quarter of Palermo, announces the opening of enrolment in the "cooking class with Shapoor".
There are many people eager to learn how to prepare dopiaza, an Afghan dish made with onions, curry, garlic paste and chicken, or mantu, large medallions filled with veal and accompanied by a sauce made with vegetables and red squash. But the real attraction, as you might imagine, is Shapoor, a real legend in these parts.
His customers, who come by the hundreds to fill the tables of Moltivolti, ask to speak with him after savouring his dishes. To offer their compliments, to be sure, but also to meet the legend of Cpl Shapoor, the nemesis of the Taliban who conquered Sicilian palates.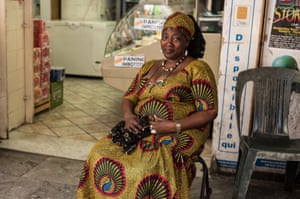 The "mother" of the inhabitants of Ballarò, now home to thousands of migrants, is a Junoesque woman from the Ivory Coast. It's no coincidence that around here she is known as "Mama Africa".
Her name is Adibata Konata, she is 65, and for years she has offered the poor of Ballarò a warm meal and sometimes even a bed from a small restaurant in Santa Chiara square, just off the famous open-air market. It makes no difference if you cannot pay; Mama Africa's restaurant is open to all of her "children", including newly arrived migrants.
Konata, born into a large middle-class family, has lived in Palermo for over 20 years. Her heart, however, is still in Ziga, a poor village in the heart of Sanmatenga, Burkina Faso, which she visited before arriving in Italy.
Here Mama Africa invests her proceeds to refurbish hospitals and offer food, clothing, books, farm implements, and electrical and plumbing material, with the goal of raising the living standards of the inhabitants.
"We started a small workshop with about 10 people who make necklaces, bracelets, and clothing items using raw materials from Africa. After paying the employees, all additional proceeds go to Ziga," she says.
"My work will probably never save Ziga from poverty, but as an African woman I feel a duty not to forget that our brothers and sisters live in the same conditions that forced us to leave. I cannot forget this."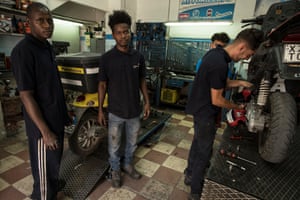 The story of Boubou Magassa and Adul Balde may seem ordinary. Yet these two 20-year-old migrants, who hail from Mali and Guinea respectively, found rare solace in Sicily in the form of a dignified job, a serene life, peace. Nothing more.
They arrived on the coast of Sicily aboard a dinghy at the beginning of 2017, after having spent nearly a year of agony in Libya, among detention camps and harassment at the hands of militiamen and traffickers. Today they work as mechanics in the town of Riesi.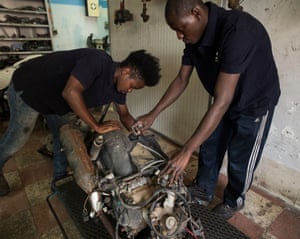 Here, not only do Magassa and Balde contribute to Italy's economy, but like many others, they have also helped revive this small town, which Italians gradually abandoned.
The population of Riesi is nearing 10,000, down from more than 20,000 in the 1950s, and the town continues to lose 100 inhabitants each year. There are hundreds of small towns like Riesi across Italy that risk extinction.
"We're happy here," says Magassa. "They treat us well. We didn't have great expectations. We came here in search of good fortune, and we only hoped to find what we dreamt about: a normal life. This is our greatest achievement."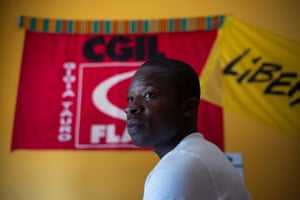 Dozens of migrants queue up in front of Atta Jacob's office each day to speak with him. Jacob, 31, who arrived from Ghana in 2008, is a representative for the CGIL, Italy's largest labour union.
To understand the long road that has enabled Jacob to earn a job, a desk, an office, and the respect of his colleagues, one must enter into the abyss of the San Ferdinando migrant camp, whichtoday is home to 1,000 people.
Here, migrants live in shacks with no water or electricity. They have been called "new slaves" as they are exploited in the tomato fields and olive groves of southern Italy for meagre compensation.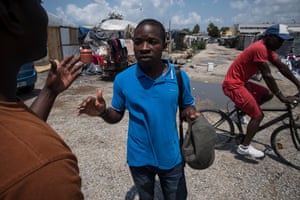 Until two years ago, Jacob was one of them. "I used to live in a shack like this one," he says. "I worked in the fields with the others for €2 an hour. It was horrible. But people here are willing to withstand this and even more in order to survive."
The migrants waiting for Jacob in front of his office live in the San Ferdinando camp. His goal as union representative is to better their working conditions, while at the same time compelling the state not to forget that behind the "Made in Italy" brand are migrants such as them.
"They are the ones who work in the fields eight, nine hours a day," says Jacob, who left his eight-year-old daughter in Ghana, and hopes to reunite with her soon.
"They are the ones who sweat under the sun to pick the tomatoes that are shipped all over the world. Ghanaians, Senegalese, Nigerians, Gambians, Malians – the same people that the government wants to expel."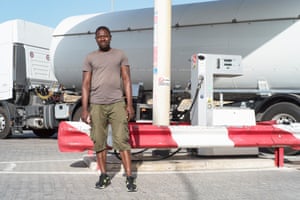 On the road from Caltanissetta to Palermo, Mamud Shamsu watches the cars speed by. Occasionally, someone stops to fill up. Shamsu walks up to the car, smiles, and begins pumping the petrol.
His days as a petrol-station attendant in the Sicilian countryside have the same cadence, week after week. To some, his work may seem monotonous. It's not a busy road, and it's not easy to come upon talkative customers, but this is all Shamsu needs to get by in Italy, where the 28-year-old arrived 10 years ago from Ghana.
"I consider myself incredibly lucky," he says. "I know it's not easy to find work in Sicily, especially if you're a migrant. People from my country wait years for opportunity like this.
"We're not here to steal jobs from Italians, we're here to work. We want to pay taxes like everyone else. No breaks. We just want the chance to build our lives, like everyone else."